Administrator Samantha J. Power
Administrator of the United States Agency for International Development (USAID)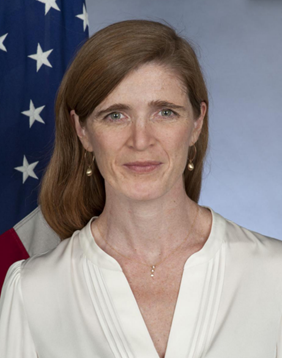 Samantha Jane Power is an Irish American journalist, diplomat and government official who is currently serving as the 19th Administrator of USAID.
Power works on enhancing USAID's longstanding leadership in areas including food security, education, women's empowerment, and global health. Prior to joining USAID, Power was the Anna Lindh Professor of the Practice of Global Leadership and Public Policy at Harvard Kennedy School. From 2013 to 2017, Power served as the 28th US Permanent Representative to the UN. She worked to negotiate and implement Sustainable Development Goals, helped catalyze bold international commitments to care for refugees and protect the rights of women and girls.
She has been recognized as one of Time's "100 Most Influential People," one of Foreign Policy's "Top 100 Global Thinkers," and by Forbes as one of the "World's 100 Most Powerful Women." Power is an author, editor and recipient of the 2003 Pulitzer Prize for Nonfiction.