Ms. Paola Albrito
Chief of Branch for the Intergovernmental Processes, Interagency Cooperation and Partnership, UNDRR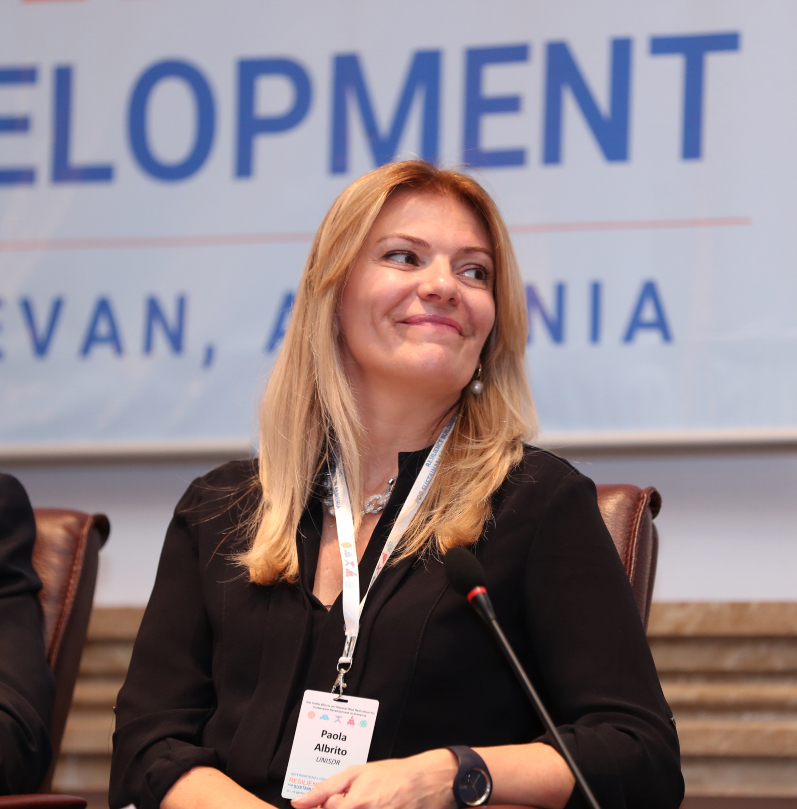 Paola is the Chief of Branch for the Intergovernmental Processes, Interagency Cooperation and Partnership at the United Nations Office for Disaster Risk Reduction (UNDRR) based in Geneva.
In her current role she supports Intergovernmental Processes in addressing disaster risk reduction, coordinates interagency efforts in supporting the Sendai Framework implementation and she builds on partnership efforts towards risk informed investments and actions.
As Chief of Regional Office for Europe and Central Asia she directed the regional office activities to support actions in building resilience to disasters within the 55 countries part of the region. Based in Brussels, Belgium, she was also the UNDRR Representative to the European Institutions. She supported the delivery of disaster risk reduction coordinated actions and partnership development within the region including the coordination of presence and inputs of the Europe region at the Third UN World Conference on Disaster Risk Reduction and the Sendai Framework for Disaster Risk Reduction 2015-2030.
Paola joined UNDRR in 2004 for the Second UN World Conference on Disaster Reduction, where she fed the conference with the Outcome Analysis Document on the status of risk reduction implementation at the global level.  Between 2005 and 2008 she addressed Policy issues in UNDRR HQs in Geneva including mainstreaming of disaster risk reduction into sustainable development and developing of a number of guidelines on indicators assessing disaster risks. From 2008 to 2010 she was promoted as Regional Coordinator for Europe.
Her previous field experience includes the coordination of the Common Country Assessment and the United Nations Development Assistance Framework in Djibouti in the UN Resident Coordinator Office (1999-2003) where she also acted as focal point to UNOCHA on emergency and rapid response; support to the UN Country Teams in developing sustainable development policies at the United Nations Staff System College in Turin; and programme evaluations as consultant at the International Labour Organisation (Geneva).
She has published widely internationally on disaster risk reduction and governance issues and she is an Editorial Advisor at the Crisis Response Journal, London UK.
Paola holds a Master's Degree in International Relations and Political Science from the University of Turin, Italy. She is a member of the International Institute of Strategic Studies (London, UK). She speaks Italian, French, English and some Russian.